About The Energy Fair®
The Energy Fair® (TEF) was founded in 2002, in the wake of the September 11, 2001 terror attacks against the United States. At that time, its primary focus was energy independence and associated issues, including threats to our energy security. That focus has broadened to global affairs and policy, with an emphasis on threats to the US and the Western World eminating from the Islamic supremicist jihad launched against the West. The Islamist proxy war against the United States and our allies represents one of the most virulent threats to energy and national security and the Western way of life that we have been confronted with in recent times.
Partnerships and Content Providers
Amazon.com (associate)
The Wall Street Journal (Opinion Journal widget)
The New York Times (news feed)
Barchart.com (stock tickler)
Google (search engine)
The Daily Motivator (thought for the day)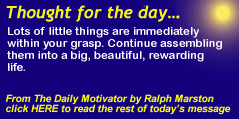 For Native Americans, the eagle symbolized vision, endurance and strength. The bird is associated with power and leadership. For the United States, it symbolizes national identity and sovereignty. For religions, omnipotence and the omniscience of God. Universally, the eagle represents power, speed, and perception.